About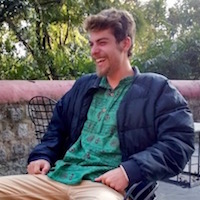 Hi, I graduated from Earlham College in 2018 with a BA in Computer Science, minor in Philosophy, and a few semesters of Studio Ceramics.
Books
I'm currently reading Philosophy in the Tragic Age of the Greeks, by Friedrich Nietzsche.
Up next is:
The Making of a Counter Culture: Reflections on the Technocratic Society and Its Youthful Opposition by Theodore Roszak
REWORK by Jason Fried and David Heinemeier Hansson
Elixir in Action by Saša Jurić
Check out what else I've been reading.
Work
I'm building the future of healthcare communication at Diagnotes.